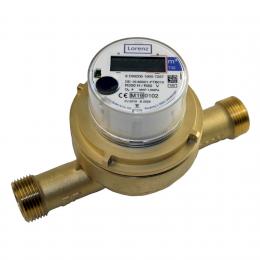 Award-winning radio residential water meter as measuring module version. A unique platform concept ensures compatibility with all common radio systems and various design variants. The result is a fully integrated plug-and-play smart meter, that meets all demands from the very start and allows for trouble-free processes regarding installation, operation, reading und exchange.
Installation-friendly as a concertric solution matching the CRI interface, both for regular installation and as a rising pipe meter.
Made in Germany.
Awarded with the Environment Technology Prize Baden-Wuerttemberg.
+ From 4 l/h: Electronic counter allows revolutionary low start flow of vain wheel rediential meters expand_more

The digital residential water meter sets standards with its minimum flow as well as its measuring accuracy and stability. The high accuracy is guaranteed across all flow ranges and is constantly reliable throughout the entire product life. With no moving parts, the smart meter is practically wear-free compared with roller counters.

+ Longevity, multiple periodicity, calibration extension on sample basis expand_more

Due to the excellent measuring accuracy and stability combined with low power consumption and optimized battery power, the digital residential water meter can be used for more than two calibration periods. With high quality brass and an electronic counter without any moving parts, the meter is practically wear-free and ideally fulfils the requirements for extension of calibration intervals on sample basis. Consequently, the battery life amounts up to 14 years, so that well over two calibration periods are covered.

+ Full connectivity and comprehensive data protection expand_more

At Lorenz, we see it as our task to ensure the best measurement technology with comprehensive connectivity, which can be integrated into existing systems or, if desired, delivered in combination with system solutions up to complete network infrastructure including analysis and billing tools. This means that each customer has the full choice to meet his individual requirements.

 

The digital residential water meter allows remote reading via impulse, OMS and soon all other common radio systems. The signal transmission is encrypted and complies with all relevant data protection guidelines.

 

Although Lorenz fulfils the requirements of various existing proprietary radio systems, we clearly recommend to avoid such models when setting up a new system, as they result in a medium-term dependency of the supplier without significant advantages. Instead, Lorenz focuses on the Open Metering System (OMS) according to the EU Directive 2006/32/EC and DIN EN 13757, which is a manufacturer-independent and cross-sector communication architecture. It creates a reliable framework and is the only system definition worldwide that can integrate water (including submetering), heat, gas and electricity into one system. If individual customers generally reject radio communication, it can be deactivated at any time or the corresponding meter can be delivered from the outset as a variant with exclusively conventional reading.

+ Unique hygiene concept expand_more

Quality and reliability are a matter of course for Lorenz as a "Mittelstand" family company - in every respect. The freedom from dangerous germs is achieved by a multi-level hygiene concept that is unique in the industry. It is audited by (major) customers and independent experts and is subject to regular inspections by external laboratories.

 

The processes of the Lorenz hygiene concept are designed redundantly, so to speak "double and triple". This includes all areas of the company, from organisation and process control through assembly and the state-certified testing centre to dispatch. Each meter passes through several so-called "Safety Gates" and no meter leaves production without another final disinfection.

 

This applies to the digital residential water meter as to all other products. We do not deliver a single meter without it having passed through our entire hygiene process at our Schelklingen plant.